Periodically, I stop writing the novel itself and make notes about what I'm doing, in hopes that when I write the next one I can remember what I did that worked, and what was a waste of time. It is also useful to write down the order in which I did things, and when I realized something had to be done or undone. It's not a diary, exactly, it's just a numbered list. I'm 3/4 of the way through the next-to-the-last draft, and there are nineteen items on the list. No doubt there will be many more by the time the novel is ready to be published.
In the beginning, I chose the type of novel I wanted to write, which in this case was a cozy mystery, ideally part of a series. Then I created roughs of the heroine, the supporting cast, the location, etc., both what they looked like and how I felt about them. Extended plots have always been difficult for me, so I found some guides to help me get going with at least a loose plot outline. Next I fleshed out the characters with back stories, and then plunged into writing scenes that corresponded with the outline.
Once a few chapters were written, I found myself not quite knowing how to make it all hang together. More research revealed that mysteries are crafted in quite specific ways. There are three story lines: the story of the crime, the personal story of the sleuth, and the story of solving the crime. Once those three synopses were written out, I had to overlap their time lines to make sure they intersected in the right places–think of a braid, or the structure of DNA.
The intersecting process helped the elements of the story start to hang together, but also threw up a lot of contradictions and other messes. This required further refinement of back stories and motivation, and provided a good time to refine each character's voice and nature, including changing their names. Find and Replace really came in handy!
I also read about the 3-Act dramatic structure, and decided this worked better for me than the 4-Obstacle plot method I had been using, and made the corresponding changes in my outline.
The process of going back to the beginning and refining again happened about four or five more times before sending Act I out to readers for reactions and suggestions. By the time those suggestions came back, I was ready to add another suspect and another victim. The more real the world of the novel became, the more possibilities evolved, such as ways of expanding the labyrinth of the mystery and even the sense of peril for the MC. It was hard to resist using all the ideas, as well as some of the back stories, because there's only so much you can cram into an 80,000-word book without making it an incomprehensible mess.
The more I rewrote, the more my MC took on a voice and a life of her own that was different than mine, which I think is a very good thing. I also firmed up the third-person narrative tone, to allow for a close experience of the MC's thought processes and observations. For instance, by this time I knew I wasn't writing a "cute" type of cozy mystery. My heroine is not the proprietor of a wishful-thinking business that wouldn't make a profit in real life, nor does a cat talk or play an active role in solving the mystery. Instead, the heroine is facing financial ruin and the complete upheaval of her own life, a fact which contributes toward her inadvertent involvement in the crime in the first place. But it is still a cozy, traditional mystery, because there is no overt violence, it takes place in a semi-closed environment (a small midwestern college town), and the sleuth must use a combination of observation and deduction to uncover whodunit.
I wanted the spirit that keeps the MC going to be evident in the narrative tone, as well as the particular set of observational skills she brings into play. These skills will be honed in future volumes as the character grows and goes through life. There's probably more of that right now than is even needed in this first book. Like the back stories and red herrings, a little bit can go a long way. I'm hoping that over time I will learn to wear the research lightly.
The process is taking a long time, not only because it is a first novel, but because I'm trying to avoid using a formula, and also because I'm laying the groundwork for the future novels. Taking time to get it as right as possible will hopefully save a lot of time in the future.
It seems like I've stopped and restarted this blog again, but in truth it never really stopped. I've been writing my brains out and keeping up with my more well-known blog, and that's all I've been able to handle. During the past six months I've written around 130,000 words, some published in The Minimalist Woman blog, and the rest in various chunks throughout Scrivener.
80,000 of those words are raw material for flash fiction collections, the kind of writing where I dug deep in memory and experience to capture essential moments. It was writing that had to be done to exorcise demons, as well, so that I could move on and learn to write with craftsmanship. It was exhausting, but it worked.
That part came to a conclusion in mid-August, when I realized I'd done enough, and that it was time to put it on the back burner to simmer for a while, so to speak. That's when I seriously challenged myself to learn the craft of writing a mystery novel, to write with less angst, to write something accessible, to achieve something that I'd be happy with, particularly if I managed a series of them. I really enjoy reading cozy mystery series, and would be absolutely delighted if I could create a series of my own.
I began by finding a way to overcome my difficulty with plotting. The handiest guide was a little ebook called The Busy Writer's One Hour Plot, which forced me to sit down and come up with enough of a concept to at least flesh out and adjust into a truly workable story line–in one hour, to boot. The feeling that I had after that one-hour exercise was exhilarating, because time and time again I'd struggle for weeks and months with plotting. That little book gave me a way out of overthinking.
Of course, I wouldn't be me if I didn't tend to overthink things. Sigh. As I fleshed out the bare bones of the plot, I got deeper and deeper into the back stories of the various characters. I also did a little more reading about plotting, particularly the plotting of mysteries, when I realized I was also going to have to do some kind of synopsis of the story of the crime itself, which is different than the story of the sleuth solving the mystery. In doing so, I realized that I'd written too much back story and not enough story about solving the crime. I thought I was half way through the novel, but it was actually only a quarter of the way through.
Further research and reading revealed I had to flesh out my main character, as well, to determine what her chief skill sets or qualities were that would enable her to solve crimes in ways the police could not. This took a while, too. Then there was determining whether to write from the first person or the third person limited. I'm still going back and forth on that one a bit. First-time novelists are encouraged to use the first person, as it is easier to hold a single point of view. But there are advantages to third person limited, particularly in series, when a shift in perspective would be useful or refreshing, or when a slightly detached narrative voice better suits the nature of the sleuth herself.
Now I'm working backwards on the story line, to get a sense of what elements my sleuth is going to pick up on, the ones that will enable her to solve the mystery. That will also help me tell the story more effectively, help me determine the narrative voice, the point of view, all those things that will make the sleuth and the world of the novel memorable and sustainable through a series.
It's been a fascinating process, and I'm grateful for the opportunity to be able to essentially drop everything else and learn the craft. I hope to be done with the first draft in a month's time.
Weather is a huge determinant of human action. This summer started out so brilliantly, with a long warm spring that made working and playing outdoors so wonderful and it seemed like everyone had the same idea. Bicyclists, walkers, runners, children on scooters and skateboards, people dining al fresco–this was going to be a rare year, indeed, for those who lived in this part of the world.
Of course, being this part of the world, it didn't last. The summery spring grew into a desert summer, an unrelenting heat wave untempered by rain. Even my garden, designed to thrive in very hot direct sun, has all but given up any effort to bloom. Supplemental watering keeps the plants alive, but just barely. The native plants, like the corn lilies that nearly all the local gardens have, are also finished. Perhaps the daisies and coneflowers will generate a second bloom before fall, but I'm not getting my hopes up.
This has meant a lot of time spent indoors, much more than planned, and being indoors means one might as well work. It's been a productive time, in terms of word-count and brainstorming. I'm still not sure I've got the short story collections collected in any coherent form, but the BIC (Butt In Chair) method has worked well, and I find my enthusiasm remains steady and satisfying.
Sleep continues to improve, as does my overall health. The adjustment to HRT continues, with the initial hyperfemininity subsiding a bit and settling into a lighter way of being than I experienced prior to starting it. I know I want to try my hand at writing mysteries, for instance, because I do enjoy reading them and my life circumstances are certainly conducive to the sort of place and character development that fits the convention of "cozies." Extended plots, however, have always been difficult for me, and I'm working on a list of plots and inciting incidents that I feel I could develop with conviction.
My initial research into writing cozy mysteries has revealed many resources for writers, such as books on police procedure, forensics, plot conventions, mystery writer networks, etc. I stumbled across many interviews with favorite authors, some of which were also very illuminating. It's a craft, that is for certain, and I'm keen on learning as much as I can about it.
BIC is good for getting actual words and scenes written down, but BOS (Butt On Sofa) is good for curling up with other peoples' books in order to gain insight about crafting genre fiction. It's also good for the browsing research needed to understand how things work in the world of crime-solving, whether by a professional or by an amateur sleuth. It's also good for sipping tea and daydreaming, letting a sense of the world of one's novels grow, expand, and shift.
I know this might not be happening if the summer weather had been pleasant and I was out in the garden or hiking in the dunes.
Imagine not being able to leave the room. Wherever you walked, wherever you went, the room remained around you, a furnished consciousness.Even working in the garden, perfectly functional and able to tell weed from flower, you are conscious of kneeling on the hardwood floor amid the table legs and chair seats. A glance across the lawn is still a glance through a curtained window. Time stopped in that room, after thirty years of writing at the table, imagining worlds and rooms and situations far outside its walls and lamps. And now, outside the walls, you cannot leave them, they are burnished across your eyes like a ghost of radiation.
Is this what prisoners see when they are finally released? Are they ever truly able to stop seeing and feeling the confined perimeters, even in the middle of an ocean or a field of wheat?
Discipline forms vision in spite of its intent to release it. Whatever forms our discipline, be it obsession, dedication, work ethic, or circumstances, will in the end color and perhaps limit the resulting work.
So perhaps it really is important where we choose to do our work, and why. Or maybe we don't have as much of a choice as we think, we choose the spaces that are the result of the choices we have made in life as a whole. Garret or garden studio, a corner of a sofa or the kitchen table, those spaces and their immediate surroundings will appear, literally or metaphorically.
Where we are at becomes what we have to say.
So let's say, through some great force of life or life choices, we radically change our physical circumstances. We uproot from a small farming community to a foreign capital, or from a factory town to a shack along the gulf—how long will it take to change the rooms and confines of old? Will we still feel the hardness of the dining room chair where we sat to write for a couple of decades even while we now sit on a canvas sling chair with a pen and notepad in front of the ocean? Is tactile memory as burnished as the visual?
Then there are the layers of memory, after a decade doing this, another decade doing that, one after another, and they are all there, many rooms, many chairs, many views from many windows, many possibilities simultaneously possible.
There are some advantages to having lived and taken things into our own hands. Maybe they'd contribute to good work, maybe not. But they contribute to one's own voice.
Today I'm annoyed with myself and I also forgive myself. It was my intention to have had another collection of stories ready to upload to Amazon today, but I've failed to meet this generous deadline.
It's the usual story: life had other ideas and I let it have its way. Life and I have a long history of doing this, which of course explains my checkered career and portfolio. It's not all bad, though. A look at the lives of even successful authors shows most have experienced periods of low productivity due to illness, family troubles, financial stress, or just plain old writer's block.
I haven't had writer's block, I've been feeling better than I have in recent years, my family situation is stable, as is my financial situation. All of that is true–and also not true. There is no single source of stress in my case, just layers of small changes in various aspects of my life that are causing shifts in my perspective. Perhaps the best analogy would be I'm going through a growth spurt and am feeling clumsy and awkward while I'm trying to adjust.
For the past month I've been on HRT, driven to it from lack of good sleep and after trying nearly everything else from herb teas to vitamins to sleeping pills to antidepressants. There's been a 90% improvement. I still don't sleep enough hours, but the sleep I do get is much better than it has been for several years. I'm trying it for another month to see if the improvements continue, and hopefully move from five hours of sleep most nights to six or seven. There's already been a huge reduction in stress and anxiety attacks. I like that a lot, as it feels "natural," and not like being medicated or sedated. There are still some out-of-the-blue weird emotions on occasion, but my understanding is that this will level out as my hormonal balance levels out.
This of course is having an impact on the way I think, write, and just be. Elements of my way of being in the world that have been missing or just faded have returned. The first one was my love of flowers. I was not going to be denied flowers this spring, and actually purchased annuals for some large flower pots for the first time in three years. I've also wanted to socialize with people, to find out what's going on in their lives, rather than keeping my nose to the writer's lonely grindstone.
Dreams have also returned, or at least ones that I can remember, and sometimes they trigger enthusiastic bursts of writing or a project around the house. A dream about making a porch table sent me looking for a pattern or instructions online, and after finding some simple ones, realized that I probably had the makings of a table of my own design from the components of the sign from one of our former businesses. Another dream triggered an entire chapter for my novel.
At any rate, it has been interesting to experience this recent shift in the way my brain works while still trying to think about and do the writing for projects that were set up months ago.
I've been lurking through the Internet, trying on different writer's blogs and communities to see if any of them fit, and have discovered a brand-new one at Assymetrical. It is a beautifully-designed forum, easy and smooth to use, which is more than I can say for 99% of the ones that I've seen.
Most of all, though, there is an excellent collection of participants from all walks of life and levels of publishing accomplishment. The creators/administrators are four men all around the age of thirty, who are writers themselves and have experience in digital publishing. My own son is thirty years old, and I've long relied on him as one of my main sources of digital-era information, such as how to earn money online, new trends, hardware, etc. He's the one who got me going on writing ebooks. So I have no difficulty whatsoever in learning from that generation, especially when they're on to something that "smells" right.
The administrators emphasize information over psychotherapy, which is wonderful. I don't want to bitch or whine on a forum, and don't want to read others' bitching and whining, either. Information, however, is the best form of support. Sometimes I feel self-conscious about being nearly twice the age of some (maybe even most) of the participants, but I tell myself to get over it, that time's a-wastin' and I'm there to learn. Sometimes I might even have information of my own to share. But the most important thing is getting on with the writing–and the publishing. These guys have some interesting ideas and plans for different kinds of digital publications. I think they're good enough to stand out from the crowd, too.
So far everyone is playing nice and nobody is doing a prima donna. It's great when people can take the work seriously without taking themselves too seriously.
Decided to take a break from blogging at The Minimalist Woman, to not worry about writing essay-length posts on essay-worthy topics for three whole months. This is quite literally the first summer in 35 years that I've ever taken a break for more than a week or two from just about anything.
Taking a break is different than quitting. I closed down my cookery around this same time two years ago, and the freedom from doing that work was replaced immediately with writing a cookbook and other kinds of writing, plus a lot of worrying about replacing the income and selling off the equipment. That's not an issue this time. Things are in a comfortable state, the blog is established, I've already published some fiction, and I know what I want to do and how I want to do it for the next three months.
In anticipation of this change of pace, the old cookery space at the back of the garage, which Steve used for an office for a while before moving back into the main part of the house, is now a "garden studio." It's the one room we have with tons of natural light and direct access to the garden. We both use it at different times of the day to sit at my grandmother's old kitchen work table and write. At the moment, because it is early enough in the day, I've got the door to the garden wide open. There's a half-dozen birds chirping and foraging not ten feet from where I'm sitting. The lavender is a brilliant purple, and there's white yarrow and deep orange corn lilies, too. There's also town views, too, of nearly-empty parking lots, the back of early 20th-century buildings, wires and poles, etc., but those elements begin after the next lot over. It's a neat mix.
This is actually the first day I've been able to work here, because I have a new laptop. The old one was no longer bright enough to use in a bright room (at least not for me). The old one suffered in speed, and its battery life was around 2 minutes. I came out here to see if it was indeed bright enough to use, and I'm thrilled. Later today I will transfer all my files and especially Scrivener, but I just had to take a moment to start journaling on this blog, and experience the satisfaction of being able to do something I visualized doing. Sometimes little things like this are hard to come by and I'm grateful when they actually happen.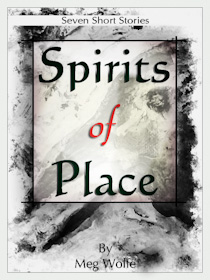 Well, I did it: Spirits of Place is my first little book of fiction, a collection of short-short stories. It is available for the Kindle (and you can get free Kindle-reading software on Amazon) for $.99, and will be free tomorrow (midnight tonight through midnight next).
I'd love it if you would take advantage of this and help me out with a review. There's more fiction on the way, but all you writers out there know that there's something special about getting that first book done. While it is fiction, I think regular readers of this blog will recognize the themes of sacred spaces, awareness of nature and life forces, personal boundaries, and the mix of beauty and bleakness in the Midwestern landscape.
Here's the description as it appears on Amazon:
Set in the near past and present, this collection of seven short-short stories and four paintings evokes the deep relationship between each narrator's identity and the places in which they live, to show—or imply—its effect upon the choices they make in their lives. In some stories, the choice is clear: the young narrator of Cathy Robinson chooses not to drown her playmate, and in Walpurgisnacht, the young-middle-aged narrator tries to help her best friend from college heal with a bonfire. The narrator of Macy grows aware of a garden's spirit of place, its genius loci, and in time becomes a real gardener, a "maker of Edens." The problematic relationships between fathers and daughters and husbands and wives weave through all the stories. Young narrators tell the funny/frightening Halloween tale in At the Crossroads, and the traumatic loss of a sacred space in The Firmament. Older narrators confront their bitterness at a loss of identity in Post-Op, and at the heartbreaking release from denial in Lease on Life.

From the Prologue through the stories and paintings, this small, 7,000-word debut collection of fiction can be experienced as a single narrative of different, yet shared, points of view.
This collection began late last summer as a project on Dan Goodwin's Coach Creative Space artists' support group, using the theme of The Four Seasons. I set myself the task of depicting a vision or sensibility of each season two ways, in flash fiction and in painting.  Since I had already started working out ideas for a novel, I thought they would make good starting points for different parts of the larger work.
The novel, however, has evolved into something quite different, which is fine, but these stories and some other writing closely connected to them were not likely to make it into the novel proper. There was definitely a shared sensibility running through them, however, so I rewrote and expanded the set to include three more stories and a prologue. Together with the four paintings from the original project, they make a stand-alone work. Each story is complete in itself, and yet form a larger story as a group.
I'm actually writing this the night before I'm posting it, while Steve wraps up the cover design and layout, and getting ready to upload it to Amazon. It was his idea to put together this book, closely seconded by my son, and I thank them both for getting me going on this. I also want to thank my friend and fellow blogger Willow, who gave it a reading over the weekend on rather short notice. I'm sitting here on the sofa with my cat, my knitting, several library books, a glass of water, and this laptop, deeply appreciating that I'm finally doing something I've wanted to do since I was in first grade–fifty years ago, come to think of it! The glass of water is due to become a glass of wine, I think ;D
Does a writer have a voice if no one reads? Thanks so much for being my reader, for giving my voice its life. -M.