It was always my intention to have a print version of An Uncollected Death. In fact, I wanted a print version more than just about anything else in the world after good health, etc. It took a while to get the manuscript re-edited and for Steve to lay out in Create Space, then re-lay out (twice, in fact, because I was obsessed), and then we waited for the proof copy to come, which was supposed to take about ten days.
It arrived in five. I was sitting here at my desk, working on the next book, when Steve came in with something behind his back and saying something along the lines of, "I think you're gonna like what came in the mail just now." I grabbed the package and actually started whimpering and hyperventilating as I opened it, and was almost overcome when I laid eyes on the cover, the pages, the feel, the thickness, the whole really real-ness of my first book in print.
Are you like me? Have you done something that you used to dream about as a little kid, back in the days when you'd imagine what you'd like to be when you "grew up?" Was it everything–or more–than you thought it would be?
Look, I know that there's a difference between going ahead and publishing your work yourself and having it published by the Big Five, particularly in the cachet, the tradition, the validation. It's a path I was on for the first ten years out of college. Back then, I wrote and produced three plays, wrote hundreds of poems and published a handful, wrote and published several short stories, a couple of essays, and even the sundry academic paper, along with three drafts of a mystery novel.
It was a path I had to leave, however, when divorce meant having to do something that actually earned an income, and earned it now. I still wrote, couldn't stop, but it was in fits and starts, lots of journals, lots of NaNoWriMo, and various newsletters and blogs. Knowing all too well the no-pay, time-consuming drag of query letters and contributor's copies, I didn't even bother to try to get anything published.
Then came digital publishing, right about the time I ran out of income-producing options, and I went back to doing what I had intended to do all along, at least in a modest way. Like myself, more and more writers are questioning the necessity of going through the traditional publishing route. It can take years to shop around a book and get it published–if it happens at all, making the process a huge gamble for older writers or any writer with a limited amount of time and funds set aside for the purpose of establishing a writing career.
I have no idea, of course, if my novel series will ever do well enough to keep me in tea and sweaters. This new world of publishing and marketing options is evolving rapidly, and I'm learning more and more about it every day. Just as in traditional publishing, a great deal of luck is involved. But there's one thing I'm convinced of: the self-published book doesn't preclude traditional publishing; rather, I think it serves as proof of a writer's ability to come up with a finished, edited product. Seems to me this is a win-win for everyone: the writer, the prospective publisher, and especially the reader.
What better luck, though, than to have lived long enough to be a writer in this new world of publishing–I actually have a book I can hold, that can go on the shelf in the local library, that can be read in book clubs, that can be purchased in the world's biggest bookstore, that can be wrapped up and placed in someone's hand, a book that can leave a bruise if I threw it at you (as if), a book that needs my old bunny rabbit bookmark, a book just like the ones I like to curl up with and read. It's really real.
In the whirlwind approaching a novel launch, there are so many things to keep track of at once. For An Uncollected Death, there was the final edit, formatting for Kindle, and formatting for Create Space, then creating a Facebook page and an author profile on Goodreads, announcing the publication on Google+ and Twitter, writing posts on the blogs, emailing people that might find the book and/or fact I published a novel interesting, and, possibly the most difficult of all, finding the guts to approach other writers for a blurb.
My biggest advantage, I think, was from the past couple of years reading and commenting on writing blogs and online communities that are truly of interest to me. I have found that it's the best way to find "your people," the ones whose language or word choice speaks to the way your own brain works, enabling you to utilize the information they share in a way that just plain feels right. Others might have the same, or even better information, but unless it lights up that bulb inside your skull, it isn't really actionable, or sustainable. Read more »
Today and tomorrow (March 6-7) you can get my tiny collection of very short stories, Spirits of Place, free on Amazon. It's a quick read, seven flash fiction pieces that form one longer story about the relationship between consciousness and place, seasons in both nature and life. First published in 2012, it's been updated with a new cover and forward.
Also, for today only (March 6), you can get The Minimalist Woman's Guide to Having it All free on Amazon, as well. I wrote it nearly three years ago, and find that it still holds true, which is why I haven't written more books on the subject.
Hope you find these enjoyable and/or useful, and if you already have them, let someone else know.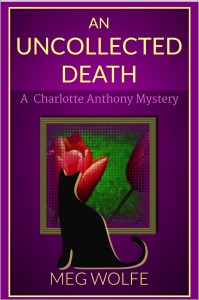 Just a quick note:
An Uncollected Death is now live on Amazon, and it's free today and tomorrow (March 1-2) for its inaugural weekend. The print version will be available in a week or two. If you enjoy it, leave a review!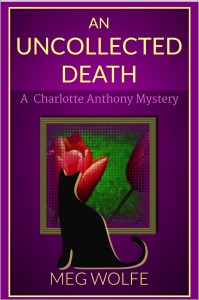 My first Charlotte Anthony mystery, An Uncollected Death, will be for sale on Amazon on Friday, February 28th. I'm taking requests for a free Review Copy until 9 pm CST on Thursday, February 27th, which will be available in  epub and PDF formats. The book will first be published digitally on KDP and priced at $4.99. Print and audio versions will follow. (And I just love the cover that Steve created!)
Is this book for you? It's a traditional/literary/cozy mystery. Minimalism, downsizing, and understanding the meaning of our stuff plays a role, too. Here's the official description:
Broke. Empty nest. Career and friends gone.

Charlotte's only ray of hope is a new job editing the notebooks of a mysterious author from the 1950′s, Olivia Bernadin, who was poised to rival the very best when she disappeared from public view for reasons unknown.

Finding Olivia battered and left for dead was not exactly what Charlotte expected her first day on the job. The editing project continues under the supervision of the author's sister, Helene, but Olivia has hidden the notebooks amid her hoard of collectibles with only cryptic clues as to their whereabouts.

Enter the only son and heir, Donovan, a nervous character who seems to have an agenda of his own. His machinations bring Charlotte far too close to the town's criminal undercurrent, who will stop at nothing—not even murder—to get their hands on a rare book rumored to be somewhere in Olivia's house.

Charlotte finds herself a suspect in Olivia's murder on one hand, and staving off financial disaster on the other. On top of all this, she has difficulty learning to trust her new acquaintances, as well as her growing feelings for Helene's friend Simon.

Solving Olivia's murder requires understanding what made her tick—and that means finding all the notebooks before Donovan has the estate hauled off to auction. As Charlotte perseveres in her search and studies the clues amid Olivia's collections, she uncovers a story that reaches from the French Resistance to the Vietnam War—and it hints at a shocking truth about a world-famous novel.

AN UNCOLLECTED DEATH is a book about a book about a book. It is also a story of life, death, and renewal in a small Midwestern college town.
In light of how indie publishing/branding works, I've also set up a Facebook page. If it's your cuppa tea, I'd love to see you over there, too

Reading a novel series slows down time, I think, and that is a good thing the older one gets. When I follow a series about the same protagonist(s), whether in books or on television/video, something happens to catch me up out of my own life and place me amid another life with just the pertinent highlights. Perhaps that is why binge-watching entire 90-episode series via Netflix or another service is such fun, because it increases that sense of immersion in a time warp.
There are more novel series than there is time in my life to read them. I can read quickly, but I don't like to, not if the book is any good. Reading slowly enough to form a mental picture of what is happening, right down to the specifics and the emotions, is all part of the immersion process. It's like savoring every bite of a favorite dessert. In this way, reading is different than watching. When you watch a story, the tempo is controlled by the director, and the experience is fairly passive: you sit back and let it hit you. When you read a story, you are the director visualizing the author's script, picking out the bits that resonate, filling in the gaps in description, and choosing when to pause and pick up again–if at all.
I read mysteries, almost exclusively. There have been periods of my life where I read large amounts of nearly all kinds of fiction, from classics (English major, duh), translations of the great Russian and French novels, and most of the well-regarded 20th century novels through the 1980′s, including a rather lot of science fiction and fantasy. From the 90′s on I had very little time to read, and when I read, I wanted the coziness of traditional mysteries. Read more »
Learning to be a novelist is learning to focus, and to focus in a particular way. Since I had no track record of finishing the second draft of a novel-length work (several NaNoWriMo "winners" don't count), I had to overcome the dilettante factor and actually devote myself to the task of learning the craft as I wrote.
Inspiration wasn't a problem, but plot outlines were, among many other things. As different problems in the craft of novel-writing crept up, I dealt with each, reading and learning from many other writers, and applying the methods that seemed most suitable for my project and my temperament. And I kept notes along the way of what worked for me, and what didn't.
"Write what you know" is pretty good advice, but I think "write how you are" would be equally good. Like most people, I've got an "A" game, the ability to step up to a task with everything I've got to produce something as close to excellent as I can. That has always worked well in the past, because most projects were of short duration. A novel, however, is a long-term project. I started out by bringing my "A" game to it day after day, and darn near drove myself crazy.
After three or four months, I realized that I was getting stressed, exhausted, and stuck. It wasn't sustainable. Solving this problem meant stepping back from the "A" game mindset and just sitting down each day to work as little old regular me, helped along by being mindful, methodical, and a little more forgiving of the not-so-productive days. The result was that the purely creative stuff came more easily, as did research, and, to my amazement, sheer word count. I saved the stepped-up mind and energy for the copy editing process, where flow and continuity determined what had to go, and what had to be rewritten. The process took time to work out, but it's sustainable and I know enough now to go into the next book this way from the very beginning, which should shave a few months off the writing time.
In the meantime, I also learned not to let a lot of stuff distract me. You know, like housework

Over time, I learned to deal with distractions and interruptions, to compartmentalize unavoidable matters (grocery shopping, car repair, etc.) in order to protect the writer me that needed to be able to take up where I left off–even if the interruption lasted as long as two months, which it did, twice in the course of seventeen months, not to mention several of two or three weeks. Such interruptions came less frequently as I learned to stop allowing them to last so long.
You can't blame life for doing what life does. I need to stop writing and go to the dentist tomorrow to deal with an ancient filling. Sometimes life brings good distractions, too–my first grandchild will be born any day now. Ventures to Chicago or Lake Michigan or visiting with friends and family are actually welcome, grounding me to the real world so that I don't get lost in the fictional world inside my head and computer screen. And that, I think, makes for more readable writing.
On Tuesday, December 17, I typed the final words of the last quarter of my novel–and broke down and cried. After holding the scene (more or less) intact in my head for the better part of a year, seeing it manifest, knowing it was the place to end the book, was almost overwhelming.
This does not mean that the book itself is finished–that will happen in the next few days after editing and tweaking what I call Act III, and then going back through the first two Acts to comb out any snarls, and re-braid anything that's come undone by what happens in those final chapters. The point at which it will be ready for publication is at least a month off, if I am to do it properly.
It got to this point much sooner than I anticipated. I guess I was expecting it to take its own sweet time evolving, like the massive Act II did, but it didn't. Since I had some sort of idea how things would end up, I wrote the first parts to lead toward that goal. The writing came much more quickly and naturally. The scenes did not play out exactly how I thought they would, because the characters by this point have taken on lives of their own, and when they start interacting in any given situation, the choices they make and the words they speak can sometimes throw light on something I hadn't thought of.
That mysterious literary element called theme revealed itself in the last two chapters, when several things from the first part of the story, both major and minor, seemed to come back to form a complete circle of sensibility. That's when I realized that I had been working from the viewpoint of a theme all along–but not always consciously. It made both the reading and writing experience more satisfying. It will make the editing process more satisfying, too–having a handle on the thematic sensibility of the novel will make the editorial choices less mechanical, and likely much more effective.
After the tweaking and flow edit, I will go back to the very beginning and edit the word choices themselves, to make sure that the POV is consistent for 3rd person close, to eliminate excess adverbs and throwaway words, to spot unneeded dialogue tags–and missing tags, boring passages, awkward word order, flat words and fraught words, and words that tell instead of show when showing or implying would be more effective.
This first complete draft of the whole novel is three-quarters on the second draft, and totals a little over 102,000 words. I'm sure there's about 20,000 words that can be eliminated for a tighter focus and better reading experience. Preliminary reports from the Reader Team indicate that it's flowing well, though. One person has read all the way through the first 3/4 and wants more, ASAP, which is a good sign.
I'm deliriously happy. It's taken a long time to learn the craft of writing a novel–and to learn how to be a novelist, to be able to sit down and take up where I left off, to learn what my sustainable level is (one can't bring the A+ game to the keyboard every day–exhausting!) and how to use Scrivener in a manner that fits the way my brain works. Here's hoping that the next book will go faster, now that the fundamentals are in place.
Periodically, I stop writing the novel itself and make notes about what I'm doing, in hopes that when I write the next one I can remember what I did that worked, and what was a waste of time. It is also useful to write down the order in which I did things, and when I realized something had to be done or undone. It's not a diary, exactly, it's just a numbered list. I'm 3/4 of the way through the next-to-the-last draft, and there are nineteen items on the list. No doubt there will be many more by the time the novel is ready to be published.
In the beginning, I chose the type of novel I wanted to write, which in this case was a cozy mystery, ideally part of a series. Then I created roughs of the heroine, the supporting cast, the location, etc., both what they looked like and how I felt about them. Extended plots have always been difficult for me, so I found some guides to help me get going with at least a loose plot outline. Next I fleshed out the characters with back stories, and then plunged into writing scenes that corresponded with the outline.
Once a few chapters were written, I found myself not quite knowing how to make it all hang together. More research revealed that mysteries are crafted in quite specific ways. There are three story lines: the story of the crime, the personal story of the sleuth, and the story of solving the crime. Once those three synopses were written out, I had to overlap their time lines to make sure they intersected in the right places–think of a braid, or the structure of DNA.
The intersecting process helped the elements of the story start to hang together, but also threw up a lot of contradictions and other messes. This required further refinement of back stories and motivation, and provided a good time to refine each character's voice and nature, including changing their names. Find and Replace really came in handy!
I also read about the 3-Act dramatic structure, and decided this worked better for me than the 4-Obstacle plot method I had been using, and made the corresponding changes in my outline.
The process of going back to the beginning and refining again happened about four or five more times before sending Act I out to readers for reactions and suggestions. By the time those suggestions came back, I was ready to add another suspect and another victim. The more real the world of the novel became, the more possibilities evolved, such as ways of expanding the labyrinth of the mystery and even the sense of peril for the MC. It was hard to resist using all the ideas, as well as some of the back stories, because there's only so much you can cram into an 80,000-word book without making it an incomprehensible mess.
The more I rewrote, the more my MC took on a voice and a life of her own that was different than mine, which I think is a very good thing. I also firmed up the third-person narrative tone, to allow for a close experience of the MC's thought processes and observations. For instance, by this time I knew I wasn't writing a "cute" type of cozy mystery. My heroine is not the proprietor of a wishful-thinking business that wouldn't make a profit in real life, nor does a cat talk or play an active role in solving the mystery. Instead, the heroine is facing financial ruin and the complete upheaval of her own life, a fact which contributes toward her inadvertent involvement in the crime in the first place. But it is still a cozy, traditional mystery, because there is no overt violence, it takes place in a semi-closed environment (a small midwestern college town), and the sleuth must use a combination of observation and deduction to uncover whodunit.
I wanted the spirit that keeps the MC going to be evident in the narrative tone, as well as the particular set of observational skills she brings into play. These skills will be honed in future volumes as the character grows and goes through life. There's probably more of that right now than is even needed in this first book. Like the back stories and red herrings, a little bit can go a long way. I'm hoping that over time I will learn to wear the research lightly.
The process is taking a long time, not only because it is a first novel, but because I'm trying to avoid using a formula, and also because I'm laying the groundwork for the future novels. Taking time to get it as right as possible will hopefully save a lot of time in the future.
It seems like I've stopped and restarted this blog again, but in truth it never really stopped. I've been writing my brains out and keeping up with my more well-known blog, and that's all I've been able to handle. During the past six months I've written around 130,000 words, some published in The Minimalist Woman blog, and the rest in various chunks throughout Scrivener.
80,000 of those words are raw material for flash fiction collections, the kind of writing where I dug deep in memory and experience to capture essential moments. It was writing that had to be done to exorcise demons, as well, so that I could move on and learn to write with craftsmanship. It was exhausting, but it worked.
That part came to a conclusion in mid-August, when I realized I'd done enough, and that it was time to put it on the back burner to simmer for a while, so to speak. That's when I seriously challenged myself to learn the craft of writing a mystery novel, to write with less angst, to write something accessible, to achieve something that I'd be happy with, particularly if I managed a series of them. I really enjoy reading cozy mystery series, and would be absolutely delighted if I could create a series of my own.
I began by finding a way to overcome my difficulty with plotting. The handiest guide was a little ebook called The Busy Writer's One Hour Plot, which forced me to sit down and come up with enough of a concept to at least flesh out and adjust into a truly workable story line–in one hour, to boot. The feeling that I had after that one-hour exercise was exhilarating, because time and time again I'd struggle for weeks and months with plotting. That little book gave me a way out of overthinking.
Of course, I wouldn't be me if I didn't tend to overthink things. Sigh. As I fleshed out the bare bones of the plot, I got deeper and deeper into the back stories of the various characters. I also did a little more reading about plotting, particularly the plotting of mysteries, when I realized I was also going to have to do some kind of synopsis of the story of the crime itself, which is different than the story of the sleuth solving the mystery. In doing so, I realized that I'd written too much back story and not enough story about solving the crime. I thought I was half way through the novel, but it was actually only a quarter of the way through.
Further research and reading revealed I had to flesh out my main character, as well, to determine what her chief skill sets or qualities were that would enable her to solve crimes in ways the police could not. This took a while, too. Then there was determining whether to write from the first person or the third person limited. I'm still going back and forth on that one a bit. First-time novelists are encouraged to use the first person, as it is easier to hold a single point of view. But there are advantages to third person limited, particularly in series, when a shift in perspective would be useful or refreshing, or when a slightly detached narrative voice better suits the nature of the sleuth herself.
Now I'm working backwards on the story line, to get a sense of what elements my sleuth is going to pick up on, the ones that will enable her to solve the mystery. That will also help me tell the story more effectively, help me determine the narrative voice, the point of view, all those things that will make the sleuth and the world of the novel memorable and sustainable through a series.
It's been a fascinating process, and I'm grateful for the opportunity to be able to essentially drop everything else and learn the craft. I hope to be done with the first draft in a month's time.