Welcome! I'm delighted that you have come to learn more about the Charlotte Anthony mysteries and some of the other things I've written. There's a blog with both personal and writing-related posts, and there's an occasional newsletter you can sign up for. Thank you so much for discovering Charlotte, and I hope you have enjoyed reading her stories as much as I have had writing them.  Meg Wolfe
---
 New! An Uncharted Corpse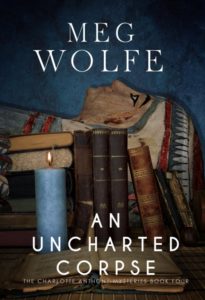 The fourth book of the series, An Uncharted Corpse, is now available on Amazon in both print and Kindle editions. From the description:
The strange appearance of a mummy at a conference sets off a chain of events with repercussions that go far beyond the staid world of academia. A suspicious death, a secret code, and a powerful sect combine to intimately connect the past to the present.
As in the previous Charlotte Anthony mysteries, the action takes place in Elm Grove and features characters both new and familiar. Charlotte's daughter, Ellis, returns to the typical small Midwestern town much more grown up than when she left, attracting the attention of both Tread, the scion of a political dynasty, and the handsome and slightly mysterious Selim. But she is plagued by an inexplicable sense of dread—and wonders if the answer lies in mysticism.
Charlotte again teams up with Detective Barnes to solve the present-day crimes, with the hope that she will finally unravel the remaining mysteries of her partner Donovan's colorful ancestry.
---
What others say about The Charlotte Anthony Mysteries
"Intelligent, inventive, and very well written, An Uncollected Death kept me reading long into the night and enjoying every word. Keep your eye on Meg Wolfe. She's a writer to watch." Susan Wittig Albert, author of Death Come Quickly and A Wilder Rose
"What a fun debut mystery! In An Uncollected Death, author Meg Wolfe skillfully weaves together my favorite elements from both cozy mysteries and women's fiction." M. Louisa Locke, author of The Victorian San Francisco Mystery Series
"Charlotte Anthony is such a warm, smart protagonist, easy to get to know and connect with. An Unexamined Wife is a splendidly satisfying mystery brimming with cleverness and humor."
–Elizabeth Craig, author of Shear Trouble and Death Pays a Visit
---
An Uncollected Death
An Uncollected Death was my debut novel and will always have a special place in my heart. Luckily, others appear to have enjoyed the book as much as I did – at least judging by the reviews and my email inbox! Much more here including what the story is about (no spoilers though- promise) and the first couple of pages.
---
An Unexamined Wife
For some reason artists of all stripes often struggle with their second release. This is especially true in the music world where the second album is often the hardest if not an out-and-out career breaker. An Unexamined Wife certainly presented its share of problems but, all things considered, I am more than happy with the end result. More including the first few hundred words can be found here
---
An Undisclosed Vocation
An Undisclosed Vocation was fun to write, as I had gained a lot of confidence. It starts with an explosion. As Charlotte gets caught up in the fallout, she learns the secret stories behind some of the familiar faces in Elm Grove–and we learn more about hers, too. Read the opening chapter here.
---
Short Fiction
Prior to writing the Charlotte Anthony Mysteries I self published a small book of flash fiction stories. The book was published on Amazon in 2012 but suffered the same fate as just about all flash fiction published there – it didn't sell many copies. I have a soft spot for this collection so have decided to publish it here, on my web site, rather than let it languish in the Amazon backwaters.
Anyway, here is the collection in its entirety. I hope that you enjoy it and please don't hesitate to let me know what you think. The whole collection is only about seven thousand words long.
---