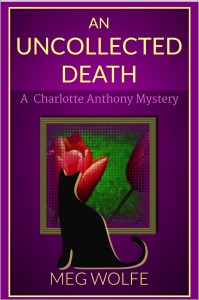 My first Charlotte Anthony mystery, An Uncollected Death, will be for sale on Amazon on Friday, February 28th. I'm taking requests for a free Review Copy until 9 pm CST on Thursday, February 27th, which will be available in  epub and PDF formats. The book will first be published digitally on KDP and priced at $4.99. Print and audio versions will follow. (And I just love the cover that Steve created!)
Is this book for you? It's a traditional/literary/cozy mystery. Minimalism, downsizing, and understanding the meaning of our stuff plays a role, too. Here's the official description:
Broke. Empty nest. Career and friends gone.

Charlotte's only ray of hope is a new job editing the notebooks of a mysterious author from the 1950's, Olivia Bernadin, who was poised to rival the very best when she disappeared from public view for reasons unknown.

Finding Olivia battered and left for dead was not exactly what Charlotte expected her first day on the job. The editing project continues under the supervision of the author's sister, Helene, but Olivia has hidden the notebooks amid her hoard of collectibles with only cryptic clues as to their whereabouts.

Enter the only son and heir, Donovan, a nervous character who seems to have an agenda of his own. His machinations bring Charlotte far too close to the town's criminal undercurrent, who will stop at nothing—not even murder—to get their hands on a rare book rumored to be somewhere in Olivia's house.

Charlotte finds herself a suspect in Olivia's murder on one hand, and staving off financial disaster on the other. On top of all this, she has difficulty learning to trust her new acquaintances, as well as her growing feelings for Helene's friend Simon.

Solving Olivia's murder requires understanding what made her tick—and that means finding all the notebooks before Donovan has the estate hauled off to auction. As Charlotte perseveres in her search and studies the clues amid Olivia's collections, she uncovers a story that reaches from the French Resistance to the Vietnam War—and it hints at a shocking truth about a world-famous novel.

AN UNCOLLECTED DEATH is a book about a book about a book. It is also a story of life, death, and renewal in a small Midwestern college town.
In light of how indie publishing/branding works, I've also set up a Facebook page. If it's your cuppa tea, I'd love to see you over there, too 🙂