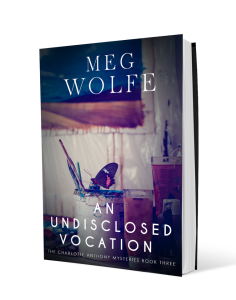 The long-awaited day is finally here! An Undisclosed Vocation is up and running on Amazon, and is available in both Kindle and print editions. Amazon hasn't linked both editions on the same landing page as of this writing, so, if you like, you can click here for the Kindle version and here for the print version. Right now the Kindle editions of all three books of the series are priced at 99 cents, handy for the holidays and sharing with others you think might enjoy them.
One of the things I'm most satisfied about with this new book is that it's solidly in the traditional mystery and suspense category. It was my intent to do so without losing the small-town milieu and the warmth and support that Charlotte both receives and gives in her circle of friends.
Everyday life is such a mystery in of itself–our human condition means that we learn as we go, and make choices that can turn out for better or for worse. I'm fascinated by the possibilities this presents in my own and others' lives, and certainly in the lives of Charlotte and the other denizens of Elm Grove, Indiana.
What's next for Charlotte? I'm pretty sure the next book will take place a few months after the events in An Undisclosed Vocation, during the grand opening of Sibylline Books and the publication of Charlotte's transcription of the journals of Olivia Bernadin. This sets the stage for all sorts of possibilities, don't you think? I can't wait to get started!
I want to close this post with heartfelt thanks to all my readers and subscribers. A special shout-out to my beta Reader Team for proofreading and feedback, and a big welcome to the Advance Reviewer Team, aka The Big Red Mug Club. But before the Readers and Reviewers get it, there's the support I get all year long from my family, not only the love and emotional support, but technical and financial support, as well. These books wouldn't happen without them. I feel really really lucky to have each and every one of you.