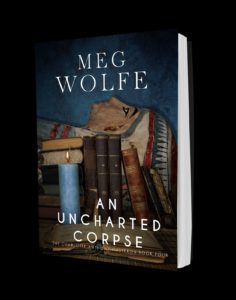 Mark your calendars for the week of December 19th! That is when the new Charlotte Anthony mystery, An Uncharted Corpse, will be available on Amazon.
It's also time to recruit new members for the Big Red Mug Club. The BRMC consists of those wonderful readers who help me by posting reviews of the new book the day it goes live. Of course it goes without saying that these reviews must be honest, but they really do help a book to gain visibility on Amazon.
How do you read and review a book that isn't published yet? By requesting a free Advance Review Copy. As a bonus, you will also receive a short story, Charlotte Anthony and the Case of the Princess Daddy.
Interested? Here's what to do:
Email me at megwolfewrites (at) gmail [dot] com, with Big Red Mug Club in the subject line.
As soon as they are ready (early next week), I will send you Advance Review Copies of An Uncharted Corpse in PDF, mobi, and epub versions, which will open in nearly any device. I will also send you a link where you can download the bonus short story.
Write an honest review, which also mentions that you received an Advance Review Copy.
Post your review the day the book goes live; I will send you an email closer to the date to let you know when that will be.
That's all there is to it!
Thanks ever so much for reading the Charlotte mysteries, and extra hugs and gratitude for everyone who has left reviews on Amazon, Goodreads, and elsewhere. Every bit helps!
Onwards and upwards,
Meg